Facial wrinkles, loss of volume, sagging or dull skin are among the first visible signs of aging that can be traced back to age-related decline in collagen production.
This brings us to the next question, is there a safe, non-surgical way to restore the volume lost due to aging?
For instance, injectable hyaluronic acid dermal fillers don't just help address volume loss without surgery, but they can also rejuvenate the skin by stimulating its natural collagen production.
Read on to know more about how your skin can benefit from hyaluronic acid fillers.
What Do Injectable Hyaluronic Acid Fillers Do? 
Dermal fillers are soft-gel injectables that can restore volume loss due to aging, thus adding a youthful glow and radiance to the skin. The most commonly used dermal filler is comprised of hyaluronic acid, and they're typically used to: 
Plump up thin lips

Add volume to sunken cheeks

Smooth out deep static wrinkles and creases, such as nasolabial folds and marionette lines

Contour the jawline

Reduce the appearance of mild acne scars

Fill in under-the-eye hollows
What Sets Hyaluronic Acid Fillers Apart From Other Types of Fillers?
Based on their composition, there are different types of dermal fillers available, such as those containing Calcium Hydroxylapatite, Polylactic acid (PLA), and Polymethyl methacrylate (PMMA).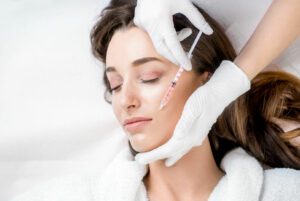 However, what sets injectable hyaluronic acid fillers apart is that they're made up of, well, hyaluronic acid, a naturally occurring compound within the human body. As a result, HA fillers offer the following benefits:
Natural-looking results.

Virtually no risk of rejection or allergic reactions

Dissolve naturally and are absorbed by the body gradually 

Easy to reverse. If you're not happy with your results, they can be dissolved using an enzyme called hyaluronidase. 
Common Hyaluronic Acid Dermal Fillers 
Currently, Juvéderm®, Restylane®, and RHA® collection fillers are among the top of the line injectable hyaluronic acid dermal fillers available, and they address a wide range of skin concerns and signs of aging: 
Juvéderm® XC reduces the appearance of nasolabial folds, smile lines, and marionette lines. 

Juvéderm® Volbella and Restylane® Kysse plump up the lips and address lip lines. 

Juvéderm® Voluma helps fill and contour sunken cheeks. 

Restylane® Refyne smooths nasolabial folds.

RHA® 2 is used to fill moderate wrinkles on the upper face (forehead and glabellar lines), as well as for lip augmentation.

RHA® 4 restores volume loss in the cheeks and can also help improve the appearance of deep static wrinkles such as marionette lines. 
How long the results last can vary depending on the type of filler used -as well as how quickly your body metabolizes them. Thus, it's best to schedule touch-ups to maintain your desired results.
If you're looking to add or restore volume to your skin for a more youthful appearance, a certified and experienced injector would be best equipped to determine what type of filler would suit your needs best.

HL Med Spa's Dr. Danuta Stankiewicz has helped countless patients in Newark, NJ get beautiful, natural-looking results safely and effectively. Schedule an appointment now to get her expert advice!